Md. Khairul Amri Bin Nordin, Md. Khairul Amri (2007) High Beam Controller For Vehicle Using Image Processing Techniques. [Final Year Project] (Unpublished)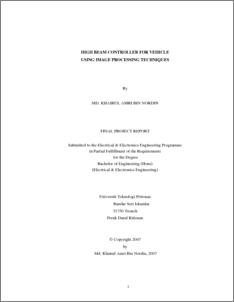 Preview
PDF
MD._KHAIRUL_AMRI_BIN_NORDIN.pdf
Download (3MB)
Abstract
Pattern recognition and image processing techniques has much influence in
computer vision. Features have been developing to improve the system in order to
solve problems in computer vision. There have been many attempts at applying this
technology for human benefits. This project requires the author to improve existing
High Beam Controller for Vehicles prepared by Syazwan Hamizin bin Mohd @
Sulaiman and his project partner, Nor Sulyanie bt Sulong in year 2005. The objective
of this project is to modify the existing system to allow the detection of approaching
vehicle more precise using image processing techniques. The existing system uses
Light Dependent Resistors which have contra especially precision of detecting
various light sources resulting errors to the system. At the end of this project, a
working prototype should be produce which will be performed by the author and his
partner. The author is assigned to do the software part which relevant software has
been developed and will integrate with hardware part. The scope of study would be
on the automotive lighting characteristics, imaging devices, image processing control
software simulations, and integrated automotive lamp controller for vehicle lighting
circuit. The methodology required for the program structure start with the image
acquisition, image enhancement, edge detection, segmentation, feature extraction,
recognition, and interpretation. The hardware part which prepared by the author's
partner gave a challenging task in order to integrate both software and hardware
systems but offered an opportunity to experience how the technology is linked to the
outside world.
Actions (login required)