Rozazilainidawati Binti Hj Ahmad, Rozazilainidawati (2010) Document Tracking Using Radio Frequency Identification (RFID) D'traxx. [Final Year Project] (Unpublished)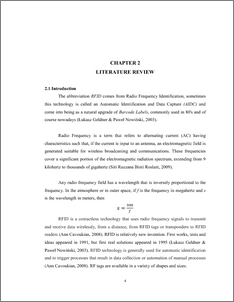 Preview
PDF
Rozazilainidawati_Binti_Hj_Ahmad.pdf
Download (465kB)
Abstract
This project discusses the progress research done and basic understanding of
the chosen topic, which is Document Tracking System Using RFID (D'TraXX).
The purpose of this project is to improve the management of tracking documents
using RFID as it is the right technology of choice to properly track the documents in
order to save time and labour in finding documents and also proper maintenance of
record of movement. This progress report will reflect problem statement, objectives
and progress activity for the project. The equipments that are needed to achieve the
objective of this project are RFID active tags, RFID reader, RFID antenna and
document tracking software.
Actions (login required)