Noor Aziah binti Othman, Noor Aziah (2010) Effect of Atmosphere and Biomass Form on torrefaction. [Final Year Project] (Unpublished)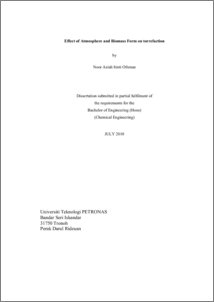 Preview
PDF
NOOR_AZIAH_BINTI_OTHMAN.pdf
Download (1MB)
Abstract
Torrefaction of palm oil empty fruit bunches (EFB), mesocarp fibre and kernel shell,
wastes from the palm oil industry, was carried out in a fixed bed tubular reactor in the
presence of oxygen at different concentrations from 0 to 15 % (nitrogen balance). The
effects of torrefaction conditions, oxygen concentration (0, 3, 9 and 15 %), temperature
(493, 523 and 573 K) and biomass size (0.375, 1.5, 3 and 6 mm), on the mass and
energy yields were investigated. The mass yield decreased with an increase in
temperature and oxygen concentration, but was not affected by biomass size. The energy
yield decreased with an increase in oxygen concentration. It was found that oxidation
was occurring along with torrefaction in this project. The ultimate analysis was also
conducted.
Actions (login required)