Muhammad Syuwari bin Mohd Hussa, Muhammad Syuwari (2010) Development of Chemical Reactivity Matrix Databases for Industrial Applications. [Final Year Project] (Unpublished)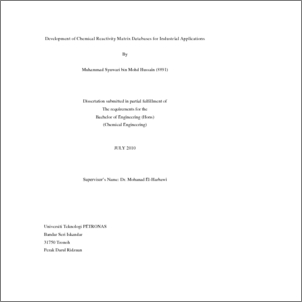 Preview
PDF
Muhammad_Syuwari_bin_Mohd_Hussain.pdf
Download (904kB)
Abstract
The major hazard with which the chemical industry is concerned is misidentifying chemical reactivity and hazards. The impacts of misidentifying chemicals hazards in the process industries may be predicted by the application of chemical reactivity matrix. However, the applications of these models require competency in computer programming. Therefore, the objective of this project is to develop an application which is able to study the chemical reactivity and hazards. The application is developed using JAVA programming language and MySQL database. The application is helpful to know the chemical descriptions, chemical hazards, safety issues of chemicals and predict the new hazards when these chemicals are mixed with each others.
The methodology of the project includes; search relevant information and chemical data that are related to the project. The development of the software has been divided into five stages, which are: planning the application, building the database, building the Graphical User Interface (GUI), writing the computer program, software validation and verification.
This application required chemical name, Chemical Abstracts Service (CAS) number or United Nation/North American (UN/NA) number as inputs for and the outputs of the software can be displayed as results. The users able to know regarding to the description of the chemical which are chemical properties. Furthermore, the users can mix the chemicals as an input then predict the hazards of the mixing chemical as an output. The software is able to present the hazard of mixing two chemicals.
The chemical reactivity matrix application is useful and feasible due to its user friendlies and ability to function as a stand alone application and it is compatible with all windows operating system. Furthermore, the cost of developing the software is cheap and the application can be updated by user. The software has been tested with few case studies and the results shows a good agreement with the other results from different softwares.
Actions (login required)