Norazima Binti Mat Zaidi, Norazima (2010) Development of Key Performance Indicators for Process Safety Management System. [Final Year Project] (Unpublished)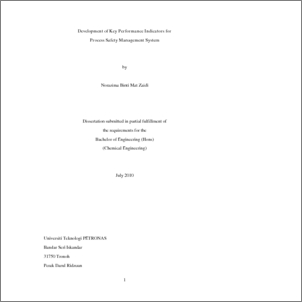 Preview
PDF
NORAZIMA_BINTI_MAT_ZAIDI.pdf
Download (1MB)
Abstract
Process Safety Management; also referred to as PSM is the application of management systems to the identification, understanding and control of process hazards to prevent process-related injuries and incidents. The major objective of process safety management (PSM) of highly hazardous chemicals is to prevent unwanted releases of hazardous chemicals especially into locations that could expose employees and others to serious hazards.
Most of the company or plant only uses lagging indicators to measure their process safety performance and it has disadvantages since it indicates process safety performance after accidents occur. Thus, the effort to integrate both lagging and leading indicators had been discussed in this project. Based on the 14 elements of Process Safety Management (PSM), the most relevant Key Performance Indicators are selected and the metrics associated with them are identified.
The focus of this project will be on Process Safety Incident for lagging indicators and Process Hazard Analysis for leading indicators. The calculations for both indicators are based on the guidelines and literature reviews available from the expertise of the process safety field. The main calculations are based on the severity level and score. Thus, a modified severity level and score had been developed to measure the safety performance system of the company or plant by using both lagging and leading indicators.
Actions (login required)