Siti Nurain Roseli, Siti Nurain (2010) Treatment of Soil Contaminated with Ionic Liquids. [Final Year Project] (Unpublished)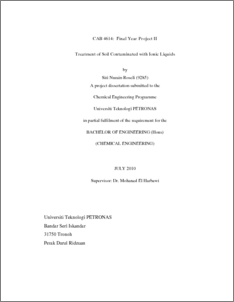 Preview
PDF
SITI_NURAIN_ROSELI.pdf
Download (677kB)
Abstract
Ionic liquids (ILs) are molten salts consist of positive and negative ions. It is
being utilized in many applications of industry especially as main solvents in green
chemistry. This is mainly for reason that ILs have properties of non flammable chemical
due to its low vapor pressure less toxic than conventional organic solvents. However,
toxicity of these compounds is still under investigation by many scientists. In case these
compounds released into environment especially soils and sea, it may cause bad impacts.
Current investigations showed that ILs may become toxic toward other organisms. Thus,
the aim of this work is to investigate the effectiveness of solvent washing method to treat
ILs that contaminate in soils. In this study, soil is collected from dry area in Perak. The
pH of soil is measured equal to 5.719. The acidity of soil may influence the leaching or
movement of ionic liquid. This is because acidity of soil also indicates the total organic
matter content in soil which influences the interaction between ionic liquids cations and
organic matter of soil. The soil is then dried using oven and aliquot amount of ionic
liquid is added into the soil. Then, the mixture is left for 72 hours for equal distribution
of contaminant in the soil. Two ionic liquids are used in this experiments which are 1-
butyl-3-methylimidazolium chloride and 1-butyl-3-methylimidazolium tetraflouroborate.
Methanol is used as the solvent to wash the soil. Few variables are being manipulated
which are amount of methanol, concentration of contaminant and speed of shaking
during treatment. After manual contamination procedure, soil is then washed with
different amount of methanol and shaken for 2 hours at different shaking speed. Amount
of methanol added are 60ml, 70ml, 80ml, 90ml, 100ml, 110ml, 120ml, and 130ml while
shaking speeds are 150rpm, 160rpm, 170rpm, 180rpm, 190rpm, 200rpm, 210rpm and
220rpm. At the end of the experiments, washed soil is filtered and liquid sample is
analyzed using HPLC analyzer to get final concentration of ionic liquid left in soil.
Results obtained show that removal of ILs from soil are enhanced with the increase of
methanol added during washing and increase of shaking speed of water bath shaker.
Actions (login required)