Wan Norsuria bt Wan Shukri, Wan Norsuria (2010) Studies on Physical and Chemical Properties of Bio Oil During Storage. [Final Year Project] (Unpublished)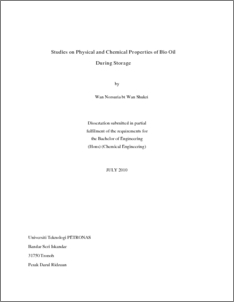 Preview
PDF
WAN_NORSURIA_undone.pdf
Download (650kB)
Abstract
Pretty soon, the earth is expected to run short of its present sources of energy like
petroleum, coal and charcoal. This is the reason why researchers all over the world are
putting on their thinking hats to find new and feasible sources of renewable energy. Bio
oil is one solution for the shortage of fuel in coming years and high consumption of fuel
all over the globe. This project will investigate the physical properties and chemical
composition of bio oil in time of storage. Science people now are trying to upgrade bio
oil to make full use of it and discard composition that affects bio oil storage. This project
starts with investigation of bio oil properties and safety precaution when we know the
characteristics of bio oil. All these data give comprehensive study on stability of bio oil.
The findings will be useful to check stability of bio oil from EFB (empty fruit bunches)
involving pH, density, ash content, CHNS analysis, calorific value and viscosity. The
methodology of all the experiments will be taken from American Standard Test Methods
(ASTM) references. Bio oil characteristics will be investigated in time of storage in 5
months. The readings will be repeated for 2 or 3 times. And the pattern of each
characterization will show how aging affect bio oil stability. This project provides
evidence that bio oil need further upgrading to avoid instability during storage.
Actions (login required)