Norazlina Binti Md Yaacob, Norazlina (2010) Optimization of Iron (III) Oxide Catalyst Using Taguchi Method for Development of Carbon Nanofiber. [Final Year Project] (Unpublished)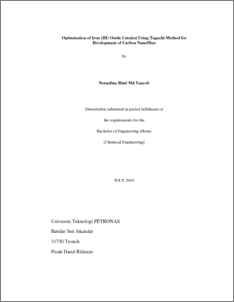 Preview
PDF
NORAZLINA_BINTI_MD_YAACOB.pdf
Download (3MB)
Abstract
Carbon nanofiber (CNF) has widely developed due to its potential application
in hydrogen storage material in solid form. CNF is synthesized from the chemical
vapor deposition (CVD) of carbon containing gasses over transition metal of the
catalyst. The size of catalyst will control the type of CNF produced. This research
work is to find the most optimum condition for Iron (III) oxide in developed catalyst
using Taguchi Method as the design of experiment.
Actions (login required)