Mohd Norshahril Jailani, Mohd Norshahril (2010) The Effects of Chemical Treatment in the Traditional Creation of Peninsular Keris Blade. [Final Year Project] (Unpublished)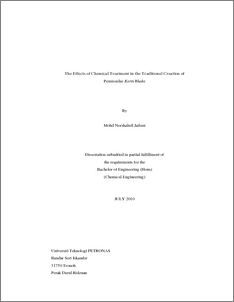 Preview
PDF
Mohd_Norshahril_Jailani.pdf
Download (1MB)
Abstract
The aim of this project is to investigate the effect of traditional chemical
treatment used towards the properties of the keris blade, which are the strength,
surface properties and chemical elements. According to Gardner (1936), the
chemical treatments used are salt solution (Sodium Chloride), Sulphur powder, rice
water and limejuice. The experiment is scoped for the chemical analysis towards the
keris sample, not including the built of the keris or elemental distribution of the
material. The keris sample had undergone chemical treatment in sequence, and at
each stages of the treatment, the chemical analysis is performed, which are the
Rockwell HRC Hardness Test, X-Ray Diffractometry Test (XRD), Field Emission
Scanning Electron Microscopy / Energy Dispersive X-ray Test (FESEM/EDX), and
Fourier-Transformed Infrared Spectroscopy Test (FTIR). Each analysis will
determine different properties of the sample and data comparison can be made. The
strength of the keris blade reduced after 2 stages of chemical treatment, but increased
back after completion. Rust formation occurred in all four stages, while ferrous
sulfide or Pyrite formed in stage 2. Stage 4 has the least corrosion due to acidic
reaction and antioxidant properties of limejuice and creation of metal coating on
surface. The removal of metal oxides had deteriorated the surface structure. In
conclusion, the traditional chemical treatments used are proven scientifically using
the latest methods of chemical analysis.
Actions (login required)