Syed Faiq Bin Syed Adnan, Syed Faiq (2010) Effect of Thermal Treatment on Composition of Malaysian Biomass. [Final Year Project] (Unpublished)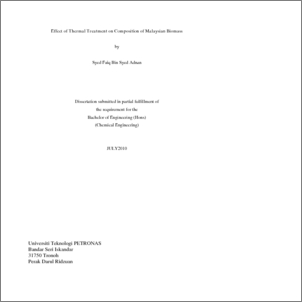 Preview
PDF
Syed_Faiq_Syed_Adnan.pdf
Download (1MB)
Abstract
This paper describes the effect of torrefaction on the basic characteristics of agricultural
biomass waste in Malaysia, such as oil palm trunk as a potential source of solid fuel.
Torrefaction is a mild pyrolysis process (usually up to 300 oC) that changes the chemical
and physical properties of biomass. This process is a possible pre-treatment prior to
further processes (transport, grinding, combustion, gasification, etc) to generate energy
or biofuels. In this study two different sample size of Oil palm trunk (OPT) were
subjected to different torrefaction temperatures at constant retention time to determine
the alterations in their compositions for comparison. The overall mass loss is proposed
as a relevant parameter to synthesize the effect of torrefaction conditions (temperature
and duration). Accordingly, all results are presented by analytical expressions able to
predict the energy properties as a function of the overall mass loss. These expressions
are intended to be used in any optimization procedure, from production in the field to
the final use in the future.
Actions (login required)