Zeelawati Binti Razak, Zeelawati (2010) Simulation of Petcoke Gasification in Fluidized Bed Gasifier. [Final Year Project] (Unpublished)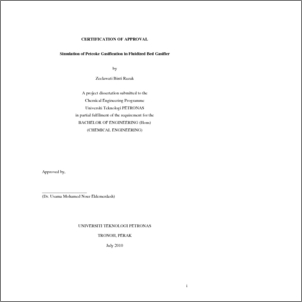 Preview
PDF
ZEELAWATI.pdf
Download (857kB)
Abstract
Gasification technology has been viewed as an alternative way to produce
energy by the industries. The process transforms low value feedstock and turns it
into valuable gaseous products. Petroleum coke or petcoke is a byproduct from oil
refineries with high carbon content. This gives petcoke more preferred feedstock to
produce power. The study will be focusing on developing a simulation on the
petcoke gasification in a fluidized bed gasifier by using the ASPEN HYSYS process
simulator. The effect of oxygen to coke ratio and steam to coke ratio and the
temperature with respect to the gasification performance will also be examined in
the model simulation.
Actions (login required)