Ahmad Fikree bin Kamil, Ahmad Fikree (2010) Removal of Oil and Grease from Refinery Desalter Effluent Using Carbon Derived from Agricultural Wastes. [Final Year Project] (Unpublished)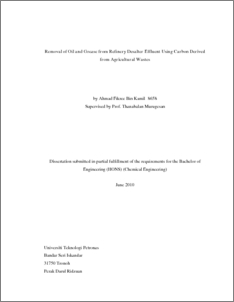 Preview
PDF
Ahmad_Fikree_Kamil.pdf
Download (1MB)
Abstract
This report basically discusses the research done and basic understanding of the chosen topic, which is Removal of oil and grease from refinery desalter effluent using carbon derived from agricultural wastes. The study takes Petronas Penapisan (Melaka) Sdn. Bhd. as a model work where the sample of effluent water from refinery desalter is taken. Currently in PP(M)SB, the desalter effluent is being sent to the effluent treatment system and discharged to the environment. The main objective of the project is to reduce the cost and consumption of process water by recycling back the desalter effluent water by removing the oil and grease from the waste water. It was reported that the amount of waste water produced is about 2000 m3/day on average [21]. The proposed raw materials to be used as an adsorbent in this project are the rubber seed.
Rubber seed are found to be a good raw material for production of activated carbon [17, 18, 19]. It is revealed that particle size of raw material does not really affect the properties of the activated carbon. While the activation time and the use of chemical agent gives a significant effect on the produced activated carbon in terms of surface area, total pore volume and as well as pore structures.
It was found that 46 % of oil and grease removal was reported in the experiment. It is proved that activated carbon prepared from rubber seed, an agricultural solid waste, can be effectively used as adsorbent for the removal of oil and grease from refinery desalter effluent.
Actions (login required)