Le Phan Quynh Linh, Phan Quynh Linh (2010) Removal of malachite green oxalate from aqueous solution using sawdust as a biosorbent. [Final Year Project] (Unpublished)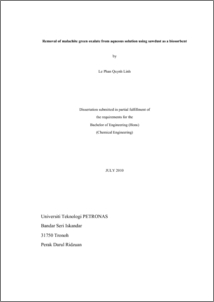 Preview
PDF
Le_Phan_Quynh_Linh.pdf
Download (4MB)
Abstract
Dyes are using in many industries such as textile, paper and ink, printing, pharmaceuticals, food
industries…. They are highly visible contaminants and often toxic. Many dyes are stable to light
and difficult to degrade, hence contaminants due to dyes pose to not only public health concern
but also environmental problems. Due to the toxic nature of most dyes to human, plants and
micro-organisms, colored waste water cannot be discharged without adequate treatment. Many
methods to remove dye from industrial waste water are used such as biodegradation,
coagulation-flocculation, adsorption, ozone treatment…. These methods are either not efficient
or expensive.
This study deals with low cost, locally available bio-sorbents. The literatures are reviewed using
rich sources of information from library books, special journals and papers and internet. By
studying the references, the methodology to study potential of using biosorbents to remove
Malachite Green Oxalate has been come out. There are four main experiments will be conducted
including factors influence dye biosorption, equilibrium test, kinetic study and effect of different
forms of sorbent on biosorption of dye.
The project can be the solution for current issue not only on colored waste water but also solid
waste disposal. Since the bio-materials used are the waste from industries and agriculture.
Furthermore, the result of this project can be used as reference for further study on biosorption
using other types of biomaterial.
Actions (login required)