Nor Mazelen Bt Mohamad Pauzi, Nor Mazelen (2010) Viscosity Studies Of Synthesized Polyol Ester From Jatropha Oil. [Final Year Project] (Unpublished)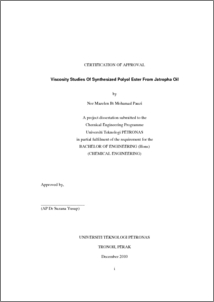 Preview
PDF
Nor_Mazelen_Bt_Mohamad_Pauzi.pdf
Download (537kB)
Abstract
The purpose of this project is to study the viscosity of synthesized polyol ester from
jatropha oil. Jatropha oil-based polyol esters are potential biodegradable stocks for
environmentally friendly lubricants. The physical properties of lubricants are primarily
contributed by the structure of the lubricant base stock. Similarly, the first criterion for
any potential polyol ester hydraulic fluid is the viscosity of the base ester before
addition of any additive. Viscosity, μ, is the most important characteristic of a fluid
lubricant because it has a major role in the formation of a fluid film. Hydraulic fluids of
any type are designed to meet a specific viscosity classification. Viscosity grades are
defined by International Standards Organization (ISO) standards according to a fluid's
viscosity at 40ºC in centistokes (mm2/second). The synthesis of jatropha oil
trimethylolpropane (TMP) esters has been performed by transesterification of jatropha
oil methyl esters (ME) with TMP using sulphuric acid as catalyst. The temperature and
shear rate effect on viscosity are then have been investigated and be compared with
methyl ester, sarapar and neopentylglycol in this project. The Brookfield Cap 2000+ LSeries
and H-series have been used to measure viscosity at lower and higher
temperature respectively. Polyol esters (POE) are being used in many applications areas
as compressor oils, refrigeration lubricants, metalworking fluid, jet engine lubricants,
high-temperature chain oils, hydraulic fluids and automotive gear oils. In industrial
markets, POEs are used extensively in synthetic refrigeration lubricants due to their
miscibility with non-chlorine refrigerants. They are also widely used in a variety of very
high temperature applications such as industrial oven chains, stationary turbine engines,
high temperature grease, fire resistant transformer coolants, fire resistant hydraulic
fluids, and textile lubricants.
Actions (login required)