Nor Adilla binti Rashidi, Nor Adilla (2010) Dye Removal Employing Coagulation and Flocculation. [Final Year Project] (Unpublished)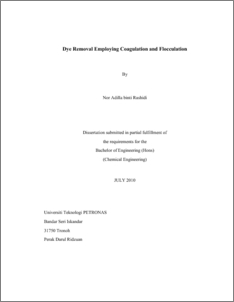 Preview
PDF
NOR_ADILLA_RASHIDI_9063.pdf
Download (6MB)
Abstract
Currently, effluents which have been generated by the textile industry are one of the
major issues that contribute to the water pollution problems. This is probably due to the
fact that, this type of industry consumes high amount of process water and chemicals
and therefore, produces high volume of highly polluted discharged water. Due to its
dreadful impacts towards the environment and living organism, lots of researches have
been carried out to treat these effluents. Presently, various methods have been
established by the experts such as the biological, chemical and physical treatment.
Associated with that, coagulation and flocculation which is one of the physical-chemical
techniques are widely employed to treat those wastewaters. While implementing this
method, the major concerns are on how to make the process efficient in terms of
economic and residual water quality and at the same time, to improve the produced
sludge (in terms of quantity and size characteristics) so that it will be easily treated or
disposed later on. Besides, the coagulation and flocculation method was tested for
Eriochrome Black T synthetic wastewater. The experiments had been carried out by
varying few parameters, which were concentration of coagulant (aluminium sulphate),
pH, temperature and effect of coagulation aids (bentonite and kaolin clay). Due to that,
series of jar tests and shaking water bath had been carried out with 2 minutes mixing
time at 200 rpm, followed by 30 minutes mixing time at 30 rpm and 1 hour of
sedimentation process. Afterwards, the supernatant liquid was evaluated in terms of pH,
Chemical Oxygen Demand (COD) and turbidity. Throughout the experiments, the
optimum condition for the process was at 250 ppm of alum, pH 7 at operating
temperature, 30oC and bentonite concentration was at 750 ppm.
Actions (login required)