Rosniza Hanim Binti Abdul Rahim, Rosniza Hanim (2010) Recovery of Rh catalyst by using membrane process. [Final Year Project] (Unpublished)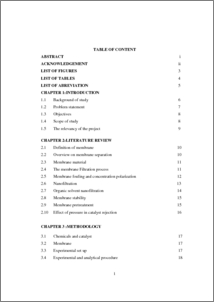 Preview
PDF
ROSNIZA_HANIM_ABDUL_RAHIM.pdf
Download (2MB)
Abstract
Hydroformylation process is for the synthesis of aldehyde and alcohol starting from
alkene. Rh catalyst is used in this process. However, loss of the catalyst during this
process usually occurs. Thus, the recovery of this catalyst would be beneficial in
reducing material cost. The objectives of this project are to determine the stability of the
membrane in the organic solvent, to study the flux of solvents which involve 1-4
dioxane and dodecane as well as to study the rejection of Rh catalyst by using
DuramemTM300 by varying operating pressure and catalyst concentration. The
membrane technology was used because due to its ability for a very selective, low cost
and energy saving separation process. The experiment was carried out by using MET
Cell. The compatibility of the solvent-membrane combination was examined by visual
inspection and flux study. From the flux study test, the solvent flux is almost in linear
form with pressure. 1-4 dioxane and dodecane was found stable in DuramemTM300 with
dodecane had higher solvent flux compare to 1-4 dioxane. It was found that the higher
molecular weight cut off (MWCO) of membrane was used, the higher solvent flux was
gained. Trends in the variation of solvent flux and catalyst rejection with variation of
pressure and catalyst concentration were identified using 1-4 dioxane. Increasing
pressure significantly increased both solvent flux and catalyst rejection. This is due to
increase of driving force exerted inside the MET Cell. By increasing catalyst
concentration, the rejection increases, however the solvent flux decreases. The solvent
flux was decreased due to the concentration polarization. In addition, the small
concentration of catalyst would not give effect on the rejection.The experiment result
shows the potential of using membrane technology to recover Rh catalyst by increasing
pressure and catalyst concentration.
Actions (login required)