Nurliyana Binti Kamarudin, Nurliyana (2010) Hydrogen Production via Aqueous Phase Reforming of Glycerol. [Final Year Project] (Unpublished)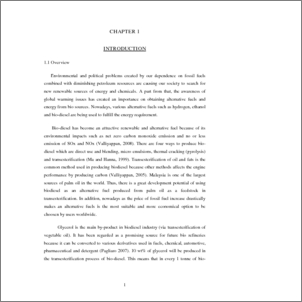 Preview
PDF
nurliyana.pdf
Download (1MB)
Abstract
Glycerol is a waste by-product obtained during the production of biodiesel. The mass production of biodiesel has causes the market price for this crude glycerol to crash. Since it is often costly to refine the glycerol for industrial use, study is done to solve the glycerol glut problem by converting glycerol into other potential energy feedstock such as hydrogen which can be used in many applications. In addition, the biodiesel costs can be reduced significantly by adding value to the glycerol by-product.
The objective of this project work is to carry out study on optimization of hydrogen production from aqua reforming of glycerol. This can be done by investigating the effects of temperature and concentration of catalyst for the aqueous phase reforming (APR) process in a presents of catalyst which is Platinum Alumina (Pt/Al3O2).
APR is a relatively recent technology for producing hydrogen from biomass-derived substrates. Lab scale High Pressure PARR reactor was used to carry out the experiment. All experiment are carried out using 10 wt% of glycerol feed with catalyst Pt/Al3O2.
The amount of catalyst concentrations are varied from 1 wt%, 2 wt% and 3 wt%. The results show the effects of concentration which give a constant increment of hydrogen yield. The result obtain are 34.62 %, 49.13 % and 61.35 % and all result are in mol % at temperature of 210 °C.
Similar trend is also observed for the effect of temperature towards APR process. There are more hydrogen have been produced at 230 °C as compare to 210 °C. At the temperature of 230°C with different amount of catalyst concentration the yield of hydrogen are 43.40 mol%, 54.86 mol% and 79.03 mol%.
Thus, it can be concluded that the optimum process condition for APR in order to maximize the generation of hydrogen gas is at a temperature of 230 °C together with 3 wt% of catalyst concentration.
Actions (login required)