Lau , Jason Kim Wee (2013) GuitarApprentice: A Mobile Application for Acoustic Guitar Learning using Fast Fourier Transform algorithm. [Final Year Project]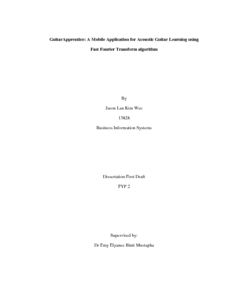 Preview
PDF




Jason_13828.pdf


Download (1MB) | Preview
Abstract
The objective of the project is to create a learning-based mobile application for learning
to play an acoustic guitar. The application also aims to select the best algorithm to detect
chords and display the chords detection in pictorial form for easier understanding.
Beginner guitarists have difficulty to know how well they have learnt or improved in
learning to play guitar chords. It is also difficult to detect chords and display the chords
detected in pictorial form. The scope of the study is limited to beginner guitarists who
are in the age range of teenagers and adults. The methodology uses the prototyping
model for rapid building and testing that overlaps until the project ends. The results of
the project are the suitable algorithm for chords detection and prototype of the mobile
app. The statistics and survey prove that the project is significant for the beginner
guitarists with mobile devices.
Actions (login required)