Ong, Yuin Yee (2010) Parametric Study for Carbon Dioxide Absorption from Natural Gas Using New Solvent. [Final Year Project] (Unpublished)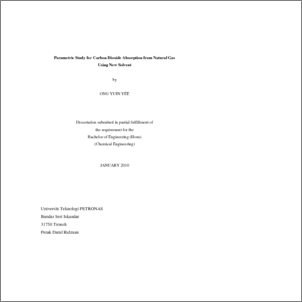 Preview
PDF
Ong_Yuin_Yee_10480_CH00_UTP.pdf
Download (2MB)
Abstract
Natural gas (NG) is produced by the anaerobic decomposition of living matter, it is
comes out of the ground, is very variable in composition, depending on the location.
The composition of natural gas can vary widely, typical composition of natural gas are
methane (CH4), ethane (C2H6), propane (C3H8), butane (C4H10), carbon dioxide (CO2),
oxygen (O2), nitrogen (N2), hydrogen sulphide (H2S) and rare gases. The CO2 content in
NG is getting higher and higher. In order to achieve natural gas sweetening, absorption
is one of the unit operations to reduce concentration of CO2. Nowadays, there are
several solvent are using to remove CO2 and H2S, such as alkanolamines, potassium
carbonate and Sodium hydroxide. Alkanolamines include primary amines, secondary
amines and tertiary amines. Primary amines consist of monoethanol amine (MEA) and
diglycolamine (DGA), where secondary amines consist of diethanolamine (DEA) and
di-isopropylamine (DIPA) and tertiary amines consist of methyl-diethanolamine
(MDEA) and triethanolamine (TEA). Experimental work is one of the methods to
analyze the solubility of solvent absorb high content of CO2 from natural gas. There are
few type of experimental setup, which are Laboratory-Scale Absorption Unit, Pilot-
Scale Absorption Unit, Industrial-Scale Absorption Unit and Atmospheric pressure
system. To achieve the accuracy, calibration of each absorption unit must be set before
start the experiment. This paper reports the solubility data of CO2 in the novel type of
solvent, which is Stonvent and DEA in the various conditions of temperature,
concentration, flowrate and CO2 partial pressure below atmospheric pressure.
Actions (login required)