Akmal Hakim Bin Jamaludin, Akmal Hakim (2010) Temperature Variation Effects Towards Formation of Calcite and Aragonite from Seawater. [Final Year Project] (Unpublished)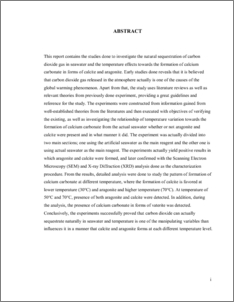 Preview
PDF
Akmal_Hakim_Bin_Jamaludin.pdf
Download (15MB)
Abstract
This report contains the studies done to investigate the natural sequestration of carbon
dioxide gas in seawater and the temperature effects towards the formation of calcium
carbonate in forms of calcite and aragonite. Early studies done reveals that it is believed
that carbon dioxide gas released in the atmosphere actually is one of the causes of the
global warming phenomenon. Apart from that, the study uses literature reviews as well as
relevant theories from previously done experiment, providing a great guidelines and
reference for the study. The experiments were constructed from information gained from
well-established theories from the literatures and then executed with objectives of verifying
the existing, as well as investigating the relationship of temperature variation towards the
formation of calcium carbonate from the actual seawater whether or not aragonite and
calcite were present and in what manner it did. The experiment was actually divided into
two main sections; one using the artificial seawater as the main reagent and the other one is
using actual seawater as the main reagent. The experiments actually yield positive results in
which aragonite and calcite were formed, and later confirmed with the Scanning Electron
Microscopy (SEM) and X-ray Diffraction (XRD) analysis done as the characterization
procedure. From the results, detailed analysis were done to study the pattern of formation of
calcium carbonate at different temperature, where the formation of calcite is favored at
lower temperature (30°C) and aragonite and higher temperature (70°C). At temperature of
50°C and 70°C, presence of both aragonite and calcite were detected. In addition, during
the analysis, the presence of calcium carbonate in forms of vaterite was detected.
Conclusively, the experiments successfully proved that carbon dioxide can actually
sequestrate naturally in seawater and temperature is one of the manipulating variables than
influences it in a manner that calcite and aragonite forms at each different temperature level.
Actions (login required)