Mohd Jeffri bin Mat Amin, Mohd Jeffri (2010) Development of Asset Life Cycle Management System in Process Plant. [Final Year Project] (Unpublished)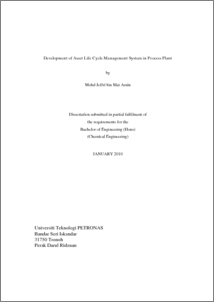 Preview
PDF
MOHD_JEFFRI_MAT_AMIN_8094_.pdf
Download (1MB)
Abstract
Managing engineering assets can be a challenging task and optimizing the assets
usage is very critical. To ensure the assets is effectively manage and utilize, one have
to make effective decision regarding the asset life cycle. The asset life cycle
management refers to the effective management system monitoring the performance
of the assets throughout their life cycle or "cradle-to-grave" ideology, which mean
that the monitoring phase is to be done at beginning stage of purchasing the asset
until its retirement time. The objective of this project is to develop the asset life cycle
management system suitable to be implemented in processing plant with respect to
their condition and environment. For this purpose, the author has identify and
analyses a few model including those available in the literature as well as the models
that already being implemented in other industries. The information obtained through
studies and analyses has been squeeze and manipulate in order to come out with the
technical framework of the asset life cycle management system in process plant. The
framework developed involving five simple steps and suitable to be implemented
with respect to the plant condition and environment. This project also focuses on
selection of suitable maintenance strategies to be implemented for the specific
equipment in order to have optimum strategies that are safe and cost effective. The
outcome of this project would help the decision makers in the process plant to
effectively monitoring the assets performance and effectiveness through the system
developed.
Actions (login required)