BAYRAM OVEZOV, BAYRAM (2010) HEAVY METAL ADSORPTION ON MONTMORILLONITE AS A MODIFIER TO CARBON PASTE ELECTRODES. [Final Year Project] (Unpublished)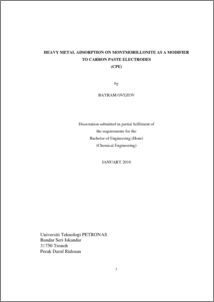 Preview
PDF
Bayram_Ovezov_8859_Disertation.pdf
Download (447kB)
Abstract
Heavy metal pollutants in water samples cause severe health risks. A real-time, monitoring
system is needed for instantaneous analysis of samples. Presently, CPEs represent one of
the most frequent types of working electrodes. Carbon paste electrodes (CPEs) belong to
promising electrochemical or bioelectrochemical sensors of wide applicability. Carbon
paste electrodes have a wide range of anodic and cathodic utility and are inexpensive and
easy to prepare and replace. These electrodes also have several drawbacks, such as a high
cathodic residual current, a low resistance towards mechanical damage and
electrochemical polymerization of analytes. Carbon Paste Electrodes can be modified
simply to obtain quantitatively new sensors with desired, often predefined, properties.
Electrode surfaces modified with clay offer the advantages of high chemical stability,
known structural features and low cost. The electrochemistry of clay modified electrodes is
a subject of considerable interest; recently, clay-modified electrodes have been used for
studying transport in layered materials. Clays are able to adsorb an electroactive species for
its direct determination. Objective of this project is to use clay as a modifier for carbon
paste electrode and observe its performance after modification. The clay that will be used
during project progress is Montmorillonite (MMT) because of its high cation exchange
capacity and that its current market price is considered to be 20 times cheaper than that of
activated carbon.
Project is consists of 2 stages: preparation of Na-MMT and Anodic Stripping Voltammetry
analysis. First stage is done in order to obtain monoionic MMT with same properties in all
structure of clay. Second stage is done to observe performance of clay modified carbon
paste electrode in which Na-MMT obtained from first stage will be used as clay.
Actions (login required)