A Hamid, Siti Hajar (2014) Preparation and Characterization of Waste Eggshell as Potential New Adsorbent. [Final Year Project] (Unpublished)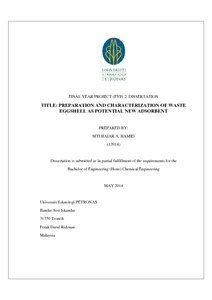 Preview
PDF




SITI HAJAR A HAMID - DISSERTATION.pdf


Download (992kB) | Preview
Abstract
As the contemporary worldwide development towards more strict environmental standards, technical applicability and cost-effectiveness has become the key factors in manufacturing adsorbents. Recently, more low-cost adsorbents have been derived from agricultural waste, industrial by-products or natural materials, since the development of
value–added products from waste are highly recommended. On the other hand, the eggshells amount to large waste disposal problems for the food industry. The preparation of activated carbon from waste eggshell is considered one of the most
environmental friendly solutions to this problem by transforming the waste material into a value-added product. The eggshell was first activated using potassium hydroxide and phosphoric acid at different impregnation ratio, activating time and temperature. The produced activated carbon is then characterized using Field Emission Scanning Electron Microscope (FESEM) and Micromeritics ASAP 2020. The optimal conditions to manufacture the activated carbon was found when the eggshell was activated at temperature of 400 °C for 60 minutes at impregnation ration of 1:3. Results proved that the BET surface area, total pore volume and diameter of activated carbon were 57.0687 m2/g, 0.2796 cm3/g and 18.68 nm respectively. Nitrogen adsorption desorption isotherm analysis shows that the activated carbon produced have mesopores present, making it suitable for adsorption process usage.
Actions (login required)