Elsharkawy, Ahmed Adel (2014) Implementation of Thermoelectric Generator Module and solar cells as External Energy Source to ZIgbee Tag. [Final Year Project] (Unpublished)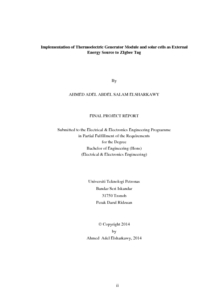 Preview
PDF




Final report.pdf


Download (2MB) | Preview
Abstract
Nowadays, wireless technology has emerged in every field of life, just as industrial field, agriculture field and countless of important applications especially the health care products, one of the IEEE protocols which used in health care application is the Zigbee standards because it has the ability to transmit data for long distance with low-power consumption, that's why here Zigbee will be used to transmit the data of the patient (temperature and hear rate). To power up the Zigbee circuit a lithium battery will be used to power up the circuit and it will be recharged through USB in addition Thermo-electric Generator (TEG) which uses the change in temperature between the room temperature and the body heat to produce electricity which will be used directly to power up the circuit . Since the output voltage of the TEG has 2 problems:
1- Not stable
2- Not enough to power up the circuit
That's why the output voltage will go through 2 stages the first one voltage stabilizer then voltage booster to boost the voltage. The TEG output is not enough at all to power up the circuit that is a solar cells will be used as a secondary power source to power up the circuit.
Actions (login required)