Hasin@Hashim, Puteri Nurfatihah (2014) DOMESTIC THERMOELECTRIC POWER GENERATOR. [Final Year Project] (Submitted)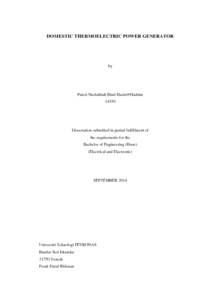 Preview
PDF




Dissertation_PUTERI NURFATIHAH_14339.pdf


Download (3MB) | Preview
Abstract
Due to being solid-state, maintenance free and noiseless, thermoelectric devices have found extensive applications in different areas since they were discovered over 180 years ago. The applications are concerned with power generation in industries utilities, transportation devices, medical service, space applications, military tools and environmental friendly refrigeration. The modules particularly attractive because it is utilize waste heat in varying applications. However, regardless of a few academic papers, there has not been extensive utilization in the domestic sector.
The concept of this thermoelectric generator is proposed to highlight on using waste heat from the environment and generate the electricity for domestic application. The prototype that will be developed in the laboratory is especially design to be implemented on all other area where the waste heat can be obtain such as from the stove, barbeque set, home heater and even heat from the solar radiation. The scope of this project is comprises of energy harvesting from the waste heat for power generation, power management and power consumption for high AC system.
The project is divided into two phase, the first phase is mainly on theoretical calculation for determining the number of TEG used for the system and identify the component require for power storage and conversion in order to supplying power to AC system. Experimental studies also will be carried out in order to identify the optimum power generation based on its temperature range and feasibility requirements. The collection of data compliment the second phase of the project which is the design process. During this phase, the design is develop from conceptual ideas into parametric design and finally fabrication process. The second phase of the project requires great consideration on various aspects such as product fabrication feasibility and materials.
Actions (login required)