Musa Idris, Mohamed Salah (2014) Intelligent Adaptive Tunnel Lighting System. [Final Year Project] (Unpublished)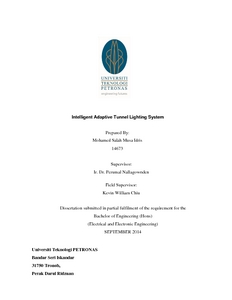 Preview
PDF




Dissertation_ Mohamed Salah_14673_EE.pdf


Download (3MB) | Preview
Abstract
Intelligent adaptive tunnel lighting system is a design approach in which the tunnel
interior lighting system adapts to the real time roadway environment conditions. More
specifically, the tunnel lighting illumination levels are adjusted based on the needs of
the motorists. The level of tunnel lighting can be reduced or dimmed when the
intensity of tunnel exterior -daylight- is decreased. Moreover, it can also be reduced
when traffic on access road to the tunnel is absent. Dimming the luminaries to meet the
minimum requirements would save on power consumption as well as maintenance
costs.
The basis of this project is to develop adaptive tunnel lighting system with the purpose
of providing sufficient tunnel interior luminance so that motorist can access and exit
the tunnel with maximum comfort and confidence. Three levels were developed with
integration of motion and light sensors. The results indicate that average of 20.51 % of
power consumption can be reduced by using this system. Furthermore, LED is highly
recommended to be used in the system due to its luminous efficiency and long
lifecycle.
Actions (login required)