Yazid, Nor Amirah Afiqah (2014) Modelling and Simulation of Parallel/Series Hybrid Filter to Achieve Active Resonance Damping. [Final Year Project] (Unpublished)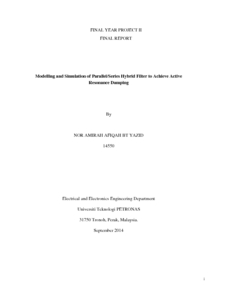 Preview
PDF




NOR AMIRAH AFIQAH YAZID_14550.pdf


Download (1MB) | Preview
Abstract
Hybrid power filters is widely known and acknowledged in the field of power quality improvement
especially in mitigating harmonics and compensating the reactive power. Since it is the
combination of the passive and active filter in a circuit, it is not only simple, but also found to be
cost-effective. It has been tested in various scale of power distribution network and proven to be
working efficiently. The quality of the power transferred to the load in improved by mitigating the
harmonics and damping out the resonances present. This paper is discussing the most suitable and
applicable type of hybrid filter for both of the case studies ; the small distribution network of source
630 kVA 400V and the wind farm with capacity of 2MW for each of the 20 wind turbines.
Classified references presented in this paper would serve for a quick reference.
Actions (login required)