Pim, Phisnukh Uttraphan (2014) Developing a continuous respiratory Rate monitoring system. [Final Year Project] (Unpublished)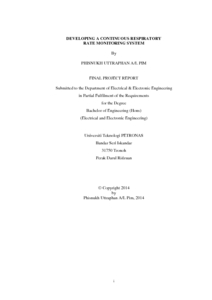 Preview
PDF




Dissertation.pdf


Download (434kB) | Preview
Abstract
There are numerous conventional methods used to determine or
monitor one's respiratory rate. The methods available are by using the
measurement technologies of induction, resistivity, Piezo, thermistor,
impedance, pressure, magnetic, optical and capacitivity. There is a need for
utilizing one of these methods or technologies and implement it in such a way
that it is portable, minimum discomfort and easy to use.
Numerous studies were conducted on the methods to measure one's
respiratory rate. However, even with these researches done, there is a lack of a
simple and cheap device in the market to be able to determine one's
respiratory rate.
The respiratory rate monitoring system proposed by the author is using
the concept of piezo resistivity coupled with microcontroller (Arduino-UNO)
and wireless transmission through the use of Zigbee module. Piezo-resistivity
is being used in many fields nowadays due to its flexibility in term of usage
and its relatively low cost coupled with its simplicity. Through this proposed
system, patient's respiratory rate could be monitored through easier and
cheaper means.
Actions (login required)