BA ABBAD, MAZEN ABDULRAHMAN SALEM (2015) Simulation of Brain-Computer Interface Based Wheelchair Controls Using Microcontroller. [Final Year Project] (Unpublished)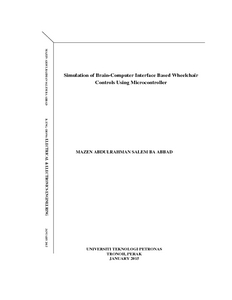 Preview
PDF




Hard Bound- Mazen_14657.pdf


Download (2MB) | Preview
Abstract
Humans always have the desire to control each single process in their life and looking
for the simplicity to live in a comfort and peace. Many technologies have been
invented because of the instinct of humans. In our daily life we need to control our
body or certain parts of it. For example to walk we need to control our legs and to eat
we have to control our hands and mouths, and for the whole body movements we need
to have the control all over the spinal cord. But any injuries or problems happen to the
spinal cord may lead to obstruction or disability.
Actions (login required)