Mohd Tajudin, Fatin Nasuha (2015) Green Synthesis of Gold Nanoparticles using Palm Oil Leaf Extract. [Final Year Project] (Unpublished)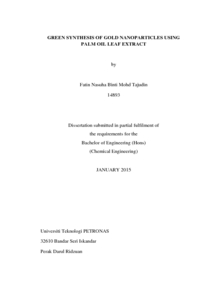 Preview
PDF




FATIN NASUHA 14893 CHE (DISSERTATION).pdf


Download (4MB) | Preview
Abstract
The present study reports the green synthesis of gold nanoparticles (AuNPs) in which
palm oil leaf extract was used as reducing agent to reduce gold ions in chloroauric
acid into AuNPs. Palm oil leaf is chosen because it possesses anti-oxidant properties,
under-utilised and considered as a major waste in palm oil industry. The synthesized
AuNPs were characterized using UV-Vis spectroscopy, Transmission Electron
Microscopy (TEM) and Fourier Transform Infrared Spectroscopy (FTIR). The effect
of varying concentration of chloroauric acid, volume ratio, temperature and reaction
time towards the morphology and size of synthesized AuNPs were analyzed. TEM
imaging done of the sample confirms the presence of polydispersed AuNPs with
mean diameter of 29.49 nm. In addition, the synthesized AuNPs composed of
hexagonal and orthorhombic crystalline structures. Bio-molecules in palm oil leaf
extract such as protein, flavonoids or phenols that contain abundant of C=O, N-H or
O-H groups might be accountable for the reductions of gold ions into AuNPs because
decrease in intensity of gold solution was observed at 3349.79 cm−1.
Actions (login required)