Syed Sheikh, Syed Ahmad (2015) Wastewater: Microalga Freely-Suspended Technique for Heavy Metal Removal. [Final Year Project] (Unpublished)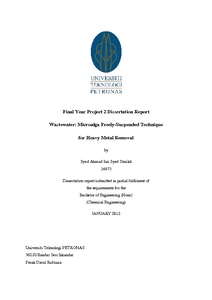 Preview
PDF




SYED AHMAD_14973_FYPII_JAN15.pdf


Download (1MB) | Preview
Abstract
The hazardous mineral content such as nitrogen (N) and phosphorus (P), the existence
of heavy metals in Palm Oil Mill Effluent, (POME) such as lead (Pb) and manganese
(Mn) and having the characteristics of high chemical oxygen demand (COD) and
biological oxygen demand (BOD) in the wastewater may lead to a serious pollution to
the environment. Current methods in removing the heavy metals content in the
wastewater have several limitations. POME remediation and removal of heavy metals
in POME using microalgae is a sustainable and cost effective approach. Basically in
this project, the purpose of the project is to study the efficiency of different types of
microalga in removing the heavy metals content in POME. The project starts by
collecting and preparing the raw samples of POME and proceeds with culturing of
microalga, check the growth condition of microalga in POME environment, perform
the treatment of heavy metals using microalga and lastly, analyse the result obtained
from Atomic Absorption Spectroscopy and calculate the removal efficiency of each
microalga for each type of heavy metals. The result expected for the project is that the
microalga able and effective in removing the heavy metals in POME. The efficiency
of the microalga will be discussed in the result and discussion section as well as in
conclusion. One of the advantages of using microalgae is that, with their
photosynthesis abilities, it is able to produce useful biomasses (Abdel-Raouf et al,
2012). Freely-suspended is among the techniques that could lead to continued use of
algae over prolonged period. A combination of wastewater treatment and renewable
bioenergy production will act as a benefit to the palm oil industry and renewable
energy sector.
Actions (login required)