Nasarudin, Fakhrul Razi (2015) Study of the Rheology of Oil – Based Drilling Mud (OBM) Subjected to Green Weighting Agent Substitution. [Final Year Project] (Unpublished)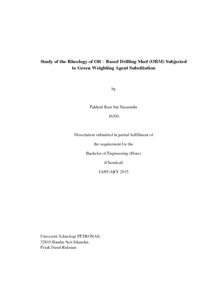 Preview
PDF




Final Dissertation_Fakhrul Razi Nasarudin.pdf


Download (1MB) | Preview
Abstract
The aim of this study is to investigate the rheology properties of oil-based mud
system using calcium carbonate from cockle shell as the weighting agent. This study
will conduct experiments focused on the rheology characteristics and electrical
stability to compare the properties commercial mud system using commercial
calcium carbonate and cockle shell's calcium carbonate. The scope of this study will
cover range of 9 lb/gal mud to 13 lb/gal mud. The results of the studied properties
will be compared with the acceptable range provided by the Standard Petroleum &
Gas Hand book. Weighting agent is one of the main components that are needed to
be included in the basic mud formulation. It used to weight up the mud to counter the
wellbore formation pressure.Barite and calcium carbonate is the common weighting
agent in mud system. In this study is focussing on comparing the efficiency of
rheology calcium carbonate from cockle shell to commercial calcium carbonate from
limestone. This study will answer the possibility of replacing weighting agent in the
current mud system with green weighting agent as mention above to save the cost
and to reduce the pollution to the environment caused by the quarrying to harvest the
commercial weighting agent.
Actions (login required)