A/L Manoharan, Kanagesh (2015) FUEL SYNTHESIS OF SYNGAS USING HYDROTALCITE DERIVED CATALYST. [Final Year Project] (Unpublished)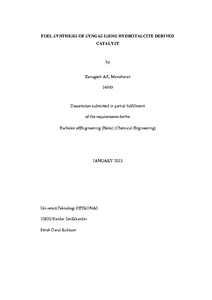 Preview
PDF




Finalised Dissertation FYP Kanagesh.pdf


Download (1MB) | Preview
Abstract
This project investigates the fuel synthesis from syngas using
hydrotalcite derived catalyst. The focus of this research is syngas conversion
into methanol as an alternative source of fuel. Hydrotalcite derived catalyst
was used as it is flexible to reform its structure and have been demonstrated its
best performances as catalyst. The range of hydrotalcite derived catalyst will
be prepared via co-precipitation method with the aid of metal precursors of
nickel, zinc with alumina as support. Hydrotalcite derived catalyst of Ni-Al,
Zn-Al and Ni-Zn-Al will be tested throughout this study. The physicochemical
and catalytic properties of catalysts was studied usingRAMAN Spectroscopy
method, Brunauer-Emmett-Teller (BET) method and Field Emission Scanning
Electron Microscopy (FESEM). Catalytic performance of synthesized catalyst
was tested using a hydrocarbon cracking reactor to synthesize syngas into
methanol. The desired temperature and pressure for this project was fixed at
200℃ and 2 bar respectively. From the overall catalytic reaction, it proves that
Zn-Ni-Al has the highest yield of methanol production compared to 2 other
bimetallic catalysts. Thecomposition of feed gas used was CO/H2/N2used was
35/45/20.
Actions (login required)