Azmi, Nadzirah (2015) The Development Of Group II Metals (Ca/Mg) As Promoter Or Bimetallic Couple For Ni/ɣ-Al2O3 Catalyst For Application Of Aqueous Phase Reforming Of Glycerol. [Final Year Project] (Unpublished)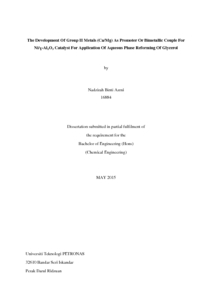 Preview
PDF




FINAL DISSERTATION 16884.pdf


Download (2MB) | Preview
Abstract
With development of technology now day, the valorisation of glycerol is one of the
solutions to solve problem of excess amount of glycerol produced in biodiesel
industry. In order to contribute to the development of glycerol research, aqueous
phase reforming (APR) is used to valorise the glycerol. The main objectives of this
project is to study the potential value added chemicals can be produce from aqueous
phase reforming of glycerol using Ni/ɣ-Al2O3 catalyst promoted or bimetallic couple
with Group II metals (Ca/Mg). For this study, thirteen catalysts will be synthesised
using incipient wetness impregnation method (IWI). 10wt% of nickel loading was
deposited on gamma alumina support. The effect of different metal loading of
calcium and magnesium (0.5%, 3.0%, 5.0% and 7.0%) on the physiochemical
properties of catalyst has been investigated. Then the synthesised catalysts will
undergo several characterization techniques such XRD, BET analysis, SEM,
FESEM and TPR to distinguish its characteristics. Result from XRD shows that the
addition of calcium and magnesium increased the intensity of the catalyst. From
BET analysis, it was found that the addition of metals like nickel, calcium and
magnesium decreased the surface area, pore volume and size. From the images that
have been captured from SEM and FESEM, the particles were visible well dispersed
on the support. For TPR, the reduction temperature of 10% Ni is 660°C. The
catalytic activity gamma alumina supported nickel; calcium and magnesium were
evaluated in an autoclave reactor at 230°C, 10 bar 450 rpm. The results obtained
from the reactor were good enough. The addition of 3% alkaline metals into the
support seems to be optimum amount of metals in order to have good APR reaction.
The value added chemicals that have been produced that useful to industry are 1, 3-
propanediol, propionaldehyde, propylene glycol, propanol, ethanol and ethylene
glycol.
Actions (login required)