Gonasergar, Vickneshwaran (2015) Desulfurization of Oil Obtained from the Pyrolysis of Waste Tyres Using Ionic Liquids. [Final Year Project] (Unpublished)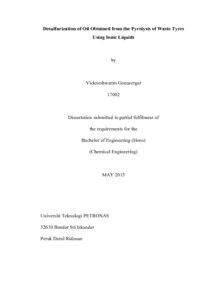 Preview
PDF




Vicky-Dissertation.pdf


Download (25MB) | Preview
Abstract
The aim of this study is to investigate the possible use of ionic liquids to remove the
sulfur from the oil produced through the pyrolysis of waste tyres. This study also
focuses on the selection of the type of ionic liquid used to obtain the best sulfur
removal, particularly, dibenzothiophene. Liquid-liquid extraction was the preferred
method in this study followed by an analysis using the analytical instrument Total
Sulfur Analyzer. The ionic liquids that are considered to be the best is 1-butyl-1-
methylpyrrolidinium dicyanamide [bmPYR][DCA]. The two parameters that were
tested in this project are stirring period of mixture of pyrolytic oil and the ionic
liquid and the temperature of the water bath at which the mixture was stirred in. The
highest percentage of removal of sulfur was around 75% when the mixture of oil and
ionic liquid was stirred at 40°C for 6 hours. From this project, it has been found that
for efficient removal of sulfur, the stirring period has to be long enough for the ionic
liquid to react completely with the pyrolytic oil and also the temperature at which the
mixture was stirred should also be low.!
Actions (login required)