Ali, Abdelrahman (2015) Development of RF Energy Harvesting Technique for Li-Fi Application. IRC, Universiti Teknologi PETRONAS. (Unpublished)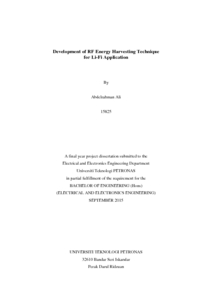 Preview
PDF




15825-Abdelrahman-Ali-Dessertation.pdf


Download (2MB) | Preview
Abstract
Internet has become one of the basic needs for almost everyone in the recent era. It is known that you can connect to the internet via many different ways, such as Local Area Connection (LAN), Wireless Fidelity (Wi-Fi), or using mobile networks (GSM/2G/3G/4G). By the year 2010, scientists have started to develop a new way of broadcasting internet. This way basically depends on emitting data through LEDs. They named it the Light Fidelity (Li-Fi). As a client, you have to connect this light source to your router via LAN or Wi-Fi, and carry it everywhere inside your property. You shall have both light and internet at the same time.
While the world is at edge with power consumption, many critics see that Li-Fi is an unnecessary addition to the power consumption, as the device would need to be powered in order to be able to send and receive data.
To solve such a problem, as shown in this project, other ambient and renewable energy sources are proposed to be used. Radio Frequency is being harvested and converted into Energy through a small PCB board. Afterwards, the output energy is being used to charge a battery and/or power the LEDs. This will be of great help to reduce the need of the normal electrical system.
Actions (login required)