NAQVI, SYED ALI ARSALAN (2013) EVALUATION OF VISUALLY INDUCED MOTION SICKNESS CAUSED BY VIEWING OF 3D STEREOSCOPY USING ELECTROENCEPHALOGRAPHY TECHNIQUE. Masters thesis, UTP.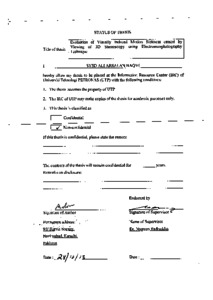 Preview
PDF




2013-E~2.PDF


Download (5MB) | Preview
Abstract
The 3D movies are attracting the viewers as they see objects flying out of the screen.
However, many viewers reportof problems that they face after watching 3D movies.
Visual fatigue, eye strain, headaches, dizziness, blurred vision or in other words,
Visually Induced Motion Sickness (VIMS) are reported by viewers of 3D movies. In
this thesis, we aim to compare a 3D passive technology with a conventional 2D
technology to find whether 3D is causing trouble in the viewers or not.
Actions (login required)