SOCHEATRA, SOEUNG (2013) FEASIBILITY INVESTIGATION OF FAULT DIAGNOSIS USING ELECTROMAGNETIC ANALYSIS OF PLANAR STRUCTURES. Masters thesis, UTP.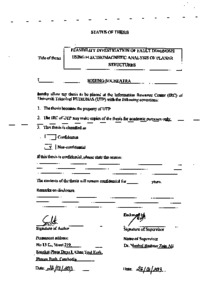 Preview
PDF




20A662~1.PDF


Download (7MB) | Preview
Abstract
Nowadays, circuit design technologies have progressively advanced to cope
with the high performance of the electronic components. With the circuit design
advancement,the technology for IC fabrication has moved to deep submicron era. As
the circuit sizes continue to scale down to nanoscale, the number of transistors and
interconnects on the circuits tends to grow as well. This challengesthe circuit testing
by introducing high number of possible faults on the circuit. Consequently, the
product qualitycontrol has become more challenging. The product quality could drop
significantly ifthe circuits are not designed to be testable.
Actions (login required)