Abdul Fatah, Muhammad Faris Fahmi (2021) The Effect of the Involvement of Other Persons Within Activity Travel Patterns On People's Social and Mental Health. [Final Year Project] (Submitted)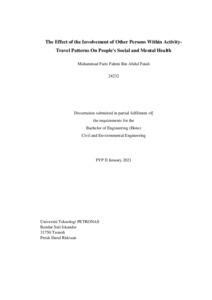 Preview
PDF




FYP Dissertation Final.pdf


Download (2MB) | Preview
Abstract
Our lives consist of various activities in space and time. The activities will
shape our lives and occur at few geographic locations for a limited time duration.
Human have limited time and resources to allocate between activities that are needed
and desired. Time geography framework allow us to analyse the travel behaviour of
human based on their constraint which is capability, coupling and authority constraints
which can be used to better understanding human behaviour during travel and aiding
in planning location of activities and infrastructure. Health is somehow can affect the
travel behaviour of human as it limits the capability of individual to perform activities
which then considered as part of capability constraint.
Actions (login required)