Mohd Ala'uyun, Husna Khalilah (2017) Harmonics Analysis at Low Voltage (LV) Systems in Universiti Teknologi PETRONAS (UTP). [Final Year Project] (Submitted)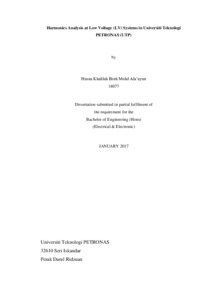 Preview
PDF




3. FINAL DISSERTATION HUSNA_18077-ilovepdf-compressed.pdf


Download (553kB) | Preview
Abstract
Harmonics has been part of power quality problem since years ago.
Harmonics is stated as the frequency which is a multiple integer of its fundamental
frequency of 50 Hz or 60 Hz. There are three groups of harmonic which include
positive, negative and zero sequence harmonic. Today, the usage of non-linear loads
which contribute in producing a distorted waveform is increasing and it is a serious
matter to maintain the quality of voltage and current waveform. This research
focused on analysing and identifying the harmonics content at low voltage (LV)
system in Universiti Teknologi PETRONAS (UTP). In this research, the levels of
harmonics are measured at the point of common coupling (PCC) where the data
taken are using the power quality analyser. These data are analysed to identify the
sources of harmonics.
Actions (login required)