A. RAMLAN, NADIA FATIHA (2017) OPTOELECTRONIC DEVICE FOR STRESS DETECTION. [Final Year Project] (Submitted)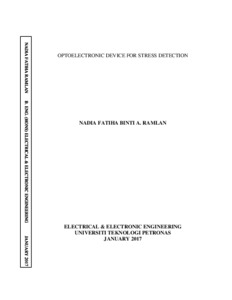 Preview
PDF




FYP Nadia_FinalReport (18115).pdf


Download (3MB) | Preview
Abstract
This research study aims to develop a portable, non-invasive stress monitoring system that uses
near-infrared light which enables the recording of brain activities during the actual life
experience memory task of a subject. This is to clarify the neurophysiological mechanism of
stress response by identifying the local hemodynamic changes in human brain. Recent studies
have shown that the stress response system able to influence the front part of the brain known as
prefrontal cortex. In this paper, a non-invasive near-infrared spectroscopy (NIRs) technology is
being studied to design a basic concept of photometric system that allows to monitor and
imaging blood oxygenation through skin tissues. The proposed system is applied to human hands
as proof of concept. The idea is to ensure that the photometric system can be applied at the
forehead area where the level of oxygenation is expected to be higher at rest under mental stress
condition. The data will be evaluated as well as the measurement and calculation made by
illuminating the right wavelength towards the tissue and detects the reflected light, enabling
spatially resolved spectroscopy to be carried out.
Actions (login required)