Awg Ajis, Dayang Dyanna (2017) Bilirubin Level Detection Using Different UV Light. [Final Year Project] (Submitted)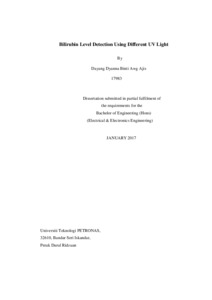 Preview
PDF




DAYANG_DYANNA_FR[1].pdf


Download (1MB) | Preview
Abstract
Phototherapy is one of the commonly used form of treatment for neonatal
jaundice. It operates by exposing an infant to a certain light source. The most
conventional ones are fluorescent lamp, halogen bulb, fibre optic and also light
emitting diodes (LED). Currently, blue LEDs are favourable as it has long bulb life,
low heat production and has a low cost. The determination of the efficiency of blue
LEDs are to be calculated by observing the decrement concentration of the food
colouring solution which represents bilirubin. In this experiment, blue LEDs are being
compared to the commonly used UV fluorescent lamps. A spectrophotometer is used
to retrieve data from the solution. The results of the experiment shows that the blue
LEDs are 10% more efficient than UV fluorescent lamps in terms of colour difference
for a 6 hour experiment.
Actions (login required)