Wan Mohd Yusof, Wan Mardhiah (2017) Connected Devices in Internet-of-things (IoT) for Driver Fatigue Alert System (16S041). [Final Year Project] (Submitted)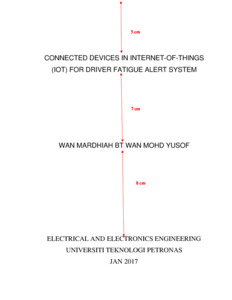 Preview
PDF




Dissertation (17403, EE).pdf


Download (996kB) | Preview
Abstract
This report discusses about a driver fatigue alert system project related to
connected devices in Internet-of-Things (IoT). It applies additional parameters and
different device for detection process if compared to other researches that have been
conducted. This project is aimed to help preventing accidents occurring due to tiredness
or fatigue. The IoT comprises the combination of electronic device, sensor and network
to work. It is applied to ensure the system can be implemented on any device, anyone, any
service or business, any path or network, anywhere, and at any time or context. This
system will detect fatigue condition from certain parameters, and give alert to notify if
there are positive signs of fatigue. The system will also give suggestion to rest at the
closest safe and suitable place to rest and reenergize.
Actions (login required)