ABDUL MANAB, MUHAMMAD HARIZ (2017) AMBIENT LIGHT MONITORING SYSTEM USING INTERNET OF THINGS (IoT). [Final Year Project] (Submitted)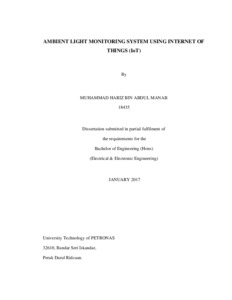 Preview
PDF




Dissertation.pdf


Download (2MB) | Preview
Abstract
Nowadays, the Internet of Things (IoT) technologies are ubiquitous and widely
used by the users to solve their specific everyday life problems related with power usage
consumption, environmental condition, automation and many more. An ambient light
monitoring system is designed to measure the ambient light intensity or illuminance of
particular indoor areas in UTP campus. This system is designed to take the light
measurement autonomously and continuously without human involvement. The purpose
of this project is to build a scalable IoT system to remotely monitor the ambient light level
in real-time inside the indoor areas of the campus that supports multiple sensors with low
power consumption. The system is a remote system which is using the concept of Internet
of Things (IoT) where the integration of everyday devices and the Internet takes place to
provide some specific information and do particular analytics. This project can be
considered as a smart indoor environmental monitoring where the ambient light intensity
of the indoor surrounding is measured autonomously or without human interference.
Actions (login required)