Mohd Shahar, Nur Aqilah (2017) Design of Microwave Oscillator for IM3 Measurement Training Kit. [Final Year Project] (Submitted)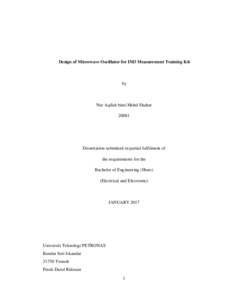 Preview
PDF




Dissertation_Aqilah-20081.pdf


Download (1MB) | Preview
Abstract
Microwave oscillators are the main source in generating electronic signal. The
fundamental of oscillators' operation is to carry message through transmission medium all
the way to the desired destination. This project focus on designing a microwave oscillator
with center frequency at 1.9 GHz and 1.95 GHz. Both of the generated signals will be
combined using power combiner. The method used in designing the oscillator in this
project is based on negative conductance method. GaAs MESFET is selected to be the
transistor in producing the signals. The proof of concept is clarify using a software called
Agilent Advanced Design System (ADS). Calculations have been made to identify the
parameters needed in designing oscillator.
Actions (login required)