CHEN, ZHENG HORNG (2017) DESIGN AND ASSESSMENT OF BRAIN TRAINING GAME. [Final Year Project] (Submitted)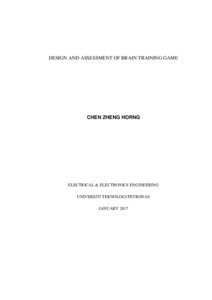 Preview
PDF




CHEN ZHENG HORNG_Dissertation.pdf


Download (12MB) | Preview
Abstract
Do brain games works? Brain games have been the attention of neuroscientists in these
recent years. The market of brain training games has increased drastically, and every
company claims that their games can train the users' brain like memory, problem
solving, reaction speed, etc. Yet, published research studies on brain games still cannot
provide a strong evidence that these games benefit the brains. Thus, this project is to
assess the effectiveness of existing brain games, specifically on memory aspect. 10
subjects were gathered and required to play a selected memory game. EEG data for
each subject was collected before, during and after playing the game. A performance
test was also conducted before and after playing game.
Actions (login required)