Lee, Zhi Yan (2017) Design, Development and Implementation of Standalone Transmission Control Module for Mercedes-Benz 722.6 5G-Tronic Gearbox. [Final Year Project] (Submitted)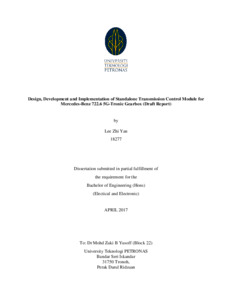 Preview
PDF




project dissertation lee zhi yan 18277 EE pdf.pdf


Download (1MB) | Preview
Abstract
Mercedes-Benz car owners whose cars are equipped with old Mercedes-Benz 5G-Tronic 722.6
hydraulic transmission are not offered with newer parameters of transmission updates such as
manual and automatic gear shifting mode. So, these cars often suffer from high fuel consumption
and slower response to acceleration compared with latest car models. The inconvenience of gear
shifting problem can be overcome by design and development of standalone transmission control
module specifically for Mercedes Benz 722.6 5G-Tronic gearbox which can read information
from the console mounted shift lever and shift of gear can be implemented either in automatic or
manual mode in order to improve gear shift quality and higher fuel efficiency. The experimental
works are carried out by connecting microcontroller to LEDs which represent solenoid valve in
Mercedes Benz 722.6 transmission module, 16x2 LCD display and temperature sensor. The
experiment results from temperature sensor are verified as compared with expected outcomes.
On the other side, the development and integration of all subsystems into one module together
with verification. The observed data from LED are tested in solenoid valve to compare the real
shift pattern with the transmission application chart.
Actions (login required)