Herumurti, Welly Herumurti (2009) Biological Treatment of Pharmaceutical Wastewater. Masters thesis, UNIVERSITI TEKNOLOGI PETRONAS.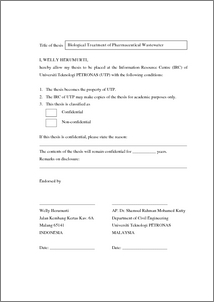 Preview
PDF
Welly_Herumurti,2009,BIOLOGICAL_TREATMENT_OF_PHARMACEUTICAL_WASTEWATER.pdf
Download (3MB)
Abstract
The biological wastewater treatment study was performaned to traet non-penicilin pharmaceutical wastewater. The study was conducted in two phases. The Phase 1 focussed on a preliminary study to determine the feasibility of biological treatment for treating pharmaceutical wastewater. The biological treatment in Phase 1 consisted of two treatment trains; Train 1 which consisted of a semi-anaerobic baffle reactor (SABR) followed by an activated sludge process (ASP) reactor while TRain 2 consisted of only an ASP reactor. The Pjase 2 was carried out on anaerobic treatment process.
Actions (login required)