NORAZAHAR, NORAFNEEZA (2011) AT-RISK BEHAVIOUR AND IMPROVEMENT STUDY IN CHEMICAL ENGINEERING LABORATORIES AT UNIVERSITI TEKNOLOGI PETRONAS. Masters thesis, UNIVERSITI TEKNOLOGI PETRONAS.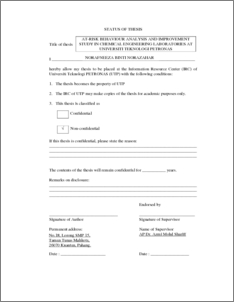 Preview
PDF
MSc_thesis_At-Risk_Behaviour_Analysis_&_Improvement_Study.pdf
Download (2MB)
Abstract
Students in chemical engineering laboratories could be exposed to not only physical hazards but also chemical hazards. Thus, procedures and guidelines dealing with hazardous chemicals are set as a foundation for laboratory safety. Occasionally, these procedures and guidelines are seen as applying only to some situations and not easily followed in all operations. As a result, sometimes injuries, accidents or even fatalities happen due to students violating laboratory safety rules. Violation of laboratory safety rules is students' behavioural issue. In industries, organisation tackles the behavioural issues by implementing Behaviour Based Safety (BBS) technique to identify and control at-risk behaviours. The technique is proved successful in reducing the injury rate of workers in many organisations. Nevertheless, some organisations cannot sustain the comprehensive participation required in BBS related activities. Alternatively, Online At-Risk Behaviour and Improvement System (e-ARBAIS) was introduced to overcome some of the BBS limitations. A modified e-ARBAIS methodology for the chemical engineering laboratory setting is introduced as a technique to identify, monitor and improve at-risk behaviours of undergraduate students known as Lab-ARBAIS. The Lab-ARBAIS maintains the original e-ARBAIS concept by using computer technology for data acquisition and analysis of at-risk behaviours observed. The analyzed observation feedback is posted in students' e-Learning portal to allow the students to view and judge their safety practices in the laboratory. The Lab-ARBAIS program is implemented in chemical engineering laboratories at Universiti Teknologi PETRONAS for undergraduate class as a case study. The Lab-ARBAIS program receives positive students' participation and gives significant improvements on frequent violated safety practices by students.
Actions (login required)