ABDULLATEEF, OLANREWAJU ASHOLA (2012) VALUE-BASED BUILDING MAINTENANCE MANAGEMENT FRAMEWORK FOR UNIVERSITY CAMPUSES. PhD. thesis, UNIVERSITI TEKNOLOGI PETRONAS.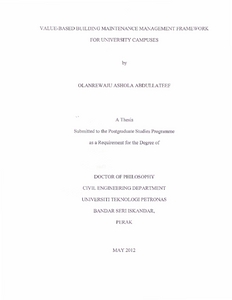 Preview
PDF




OLANREWAJU_ASHOLA_ABDULLATEEF.pdf


Download (608kB) | Preview
Abstract
the research found that the value-based maintenance management framework can facilitate the delivery of improved services and higher productivity.
This research recommends applying the value maintenance management framework in order to facilitate providing value added services. Although, the research specifically concerns university buildings, other public and private sector organizations face similar maintenance management problems. Therefore, the findings of the research are suitable for improving maintenance services in other
maintenance organisations.
Actions (login required)